First Business Division
As a trading and logistics unit of Mitsui & Co.'s automotive sector, the First Business Division utilizes the global networks and wealth of knowhow of the Mitsui & Co. group to engage in a diverse range of automotive-related business in regions around the world.
To meet the needs of our customers, we are active in a wide range of areas in addition to regular import and export operations, including identifying and introducing overseas suppliers and users, and improving logistics operations.
We always aim at accomplishing "Yoi Shigoto" (quality work) by providing services that benefit our customers and seeking to develop and grow with them as a trusted business partner.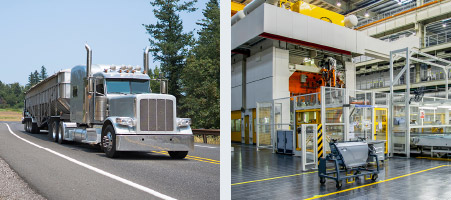 Export of completed vehicles
Working closely with Japanese auto manufacturers, we use our logistics knowhow to export commercial vehicles around the world, particularly to countries in Latin America. We also export forklift trucks and other industrial vehicles to Latin America.
Export of auto parts
We export production parts, including front leaf springs and rear air suspension springs for heavy-duty trucks, seat parts for light and medium-duty trucks, and various spare parts for passenger and commercial vehicles, to North America and Latin America.
Export of automotive plant equipment and indirect materials
Since our foundation, we have been providing services related to the handling of various types of production equipment, including presses, press molds, and associated equipment, and have been supplying equipment servicing parts, tools, and consumables mainly to overseas automobile manufacturing sites. We handle more than 20,000 items from over 450 domestic manufacturers, and are committed to meeting the needs of our customers. In addition to these export activities, we also offer comprehensive proposals, including the gathering, provision, and research of information, preventative maintenance, and retrofitting, to contribute to cost reduction and preventive maintenance.