Message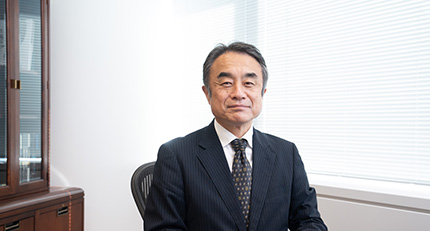 Thank you for visiting us here at Mitsui Bussan Automotive Inc.
Our company was established in April 1993 as a wholly-owned subsidiary of Mitsui & Co.'s Motor Vehicles Business Unit, and since that time we have continued to grow steadily with the support of our customers, our business partners, and our employees.
The company was founded at a time when Japanese auto and auto parts manufacturers were actively expanding overseas, and we supported this overseas expansion by procuring and exporting automobile manufacturing equipment and production parts for these Japanese manufacturers, leveraging highly specialized professionals and exceptional mobility, while taking advantage of Mitsui & Co.'s reliability and international networks.
In the domestic market, we created our own unique sales and servicing system amid the rising demand for foreign cars, importing and selling premium European marques and high-end converted US models, and creating a rich and unique car lifestyle in Japan.
In addition, we have established a security trade control system and a personal information protection system, have been exporting vehicles and parts, and also performing insurance payment services for insurance companies. Furthermore, amid the growing awareness of environmental issues, we have also started recycling and reusing vehicles, parts, and materials, thereby contributing to the realization of an environmentally-friendly, recycling-oriented motorized society.
Today, in an automotive industry that is undergoing what is said to be the greatest transformation in a century, we are protecting what should be protected, making major changes in what needs to be changed, and taking on the challenge of developing new business models. For example, how can the motor car fit in with modern-day Japan with its declining birth rate, aging population, and depopulation of rural areas? With inbound demand increasing, what kinds of attractive services can we provide with cars for foreign tourists in Japan? How can we protect the natural beauty of Japan and the world from the environmental pollution created by cars of the past? And how can we ensure that our employees remain happy and healthy in their work?
We will continue to work together with all our customers, partners, and other stakeholders to contribute to creating a happier society and a brighter future supported by the motor car.
President Yuiki Nishimura